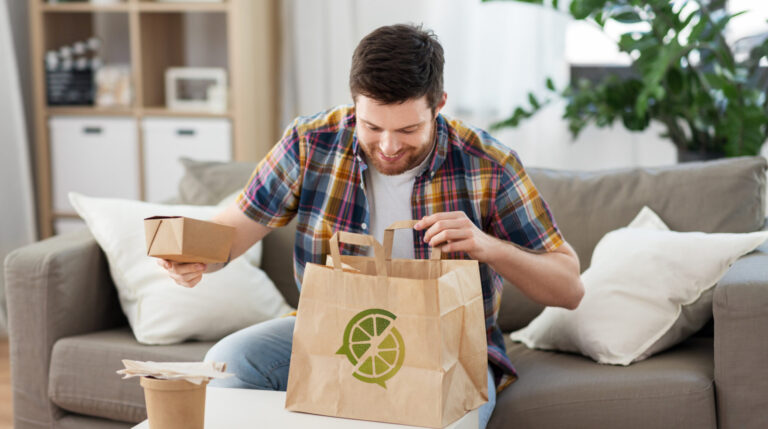 Takeaway food can be a convenient and delicious option for those days when you don't have the time or energy to cook. However, it's important to make sure that your takeaway options are healthy and balanced in order to maintain good health.
Here is a comprehensive guide to the healthiest options for takeaway food from different cuisines.
Sushi
Sushi is one of the best options for takeaway food. It is a Japanese dish that typically consists of cooked rice, vinegar, and fish. It is often considered to be a healthy option as it is low in calories and fat. Sushi is not only delicious but also packed with numerous health benefits, making it a popular option for maintaining optimal health. One key advantage of sushi is its support for healthy weight management, as it is typically low in calories and high in protein, thanks to ingredients like fresh fish, seafood, and vegetables. Sushi also provides a rich source of essential fatty acids, particularly omega-3s, which are abundant in fatty fish like salmon and tuna.
These fatty acids are known to promote cardiovascular health by reducing inflammation, lowering blood pressure, and improving cholesterol levels. Moreover, sushi's nutrient-dense ingredients, such as seaweed, ginger, and wasabi, contribute to overall immunity by providing antioxidants, vitamins, and minerals. To ensure you're consuming the healthiest sushi options, opt for those made with whole-grain rice, lean protein sources like grilled fish or tofu, and plenty of fresh vegetables, while avoiding deep-fried or mayonnaise-laden choices.
Cons: Sushi can also be high in sodium due to the addition of soy sauce.
Salads
Salads are great. They are a healthy option as they are typically low in calories and fat. They are full of vitamins and minerals, such as Vitamin A, Vitamin C, beta-carotene, calcium, folate, fiber and phytonutrients. Eating salads can help you get enough fruits and vegetables in your diet while also providing you with fibre to aid digestion.
Additionally, salads are low in calories which makes them an excellent choice for weight management. There are many types of salads that you can make depending on your preferences; from leafy green salads to fruit-based ones. When making a salad, it is important to look out for ingredients that provide the most nutritional value such as dark green lettuce, kale and spinach.
Cons: Be aware that some salads can also be high in sodium if they are topped with salty dressings or croutons. Additionally, some salads may contain unhealthy ingredients such as bacon or cheese. 
Soups
Nothing better than a soup in the winter. Soups are a healthy option as they are typically low in calories and fat. Soups provide a great way to get essential vitamins and minerals, as well as protein and fiber. Homemade soups are especially beneficial because they can be easily customized with vegetables, legumes, and lean proteins like chicken or fish. Not only do soups provide essential nutrients, but they can also be incredibly delicious. Examples of nutritious and tasty soups include lentil soup, green pesto minestrone, spiced lentil & butternut squash soup, vegetable chowder, and chicken ginger soup. Incorporating soup into your diet is easy; you can enjoy it for lunch or dinner or even freeze it for later use. Eating soup regularly is a great way to maintain a balanced diet that will keep you feeling full and energized throughout the day.
Cons: Soups can also be high in sodium if they are made with salty broth or contain processed meats. Additionally, some soups may contain unhealthy ingredients such as cream or butter.
Sandwiches
How can you live without a sandwich? Sandwiches are a healthy option as they are typically low in calories and fat. Breads provide carbohydrates for energy and fiber for digestion. Whole grain breads are especially beneficial as they contain more nutrients than white breads. Proteins such as meats, eggs, cheese, or beans provide essential amino acids that help build muscle and repair tissue.
Vegetables add flavor and texture to sandwiches while providing vitamins A and C as well as minerals like iron and potassium. Condiments like mayonnaise or mustard add flavour without adding too many calories or fat.
Cons: Sandwiches can also be high in sodium if they are made with salty meats or cheeses. Additionally, some sandwiches may contain unhealthy ingredients such as mayonnaise or breaded chicken.
Wraps
Falafel or not, wraps are a healthy option as they are typically low in calories and fat. Unlike traditional bread or tortillas, wraps are typically made with whole-grain ingredients that provide essential dietary fiber for digestive health. Additionally, they can be filled with a variety of vegetables and other nutritious ingredients such as lean proteins and healthy fats, making them a great source of vitamins and minerals.
Wraps are also often lower in calories than other types of breads or tortillas, so you can enjoy the same flavors without consuming excess calories. While some wraps may contain unhealthy ingredients like those found in fast food, there are many options available that use natural and organic ingredients for a healthier alternative. With their versatility and nutritional benefits, wraps make an ideal choice for anyone looking to maintain a balanced and varied diet.
Cons:  Wraps can be high in sodium if they are made with salty meats or cheeses. Additionally, some wraps may contain unhealthy ingredients such as mayonnaise or breaded chicken