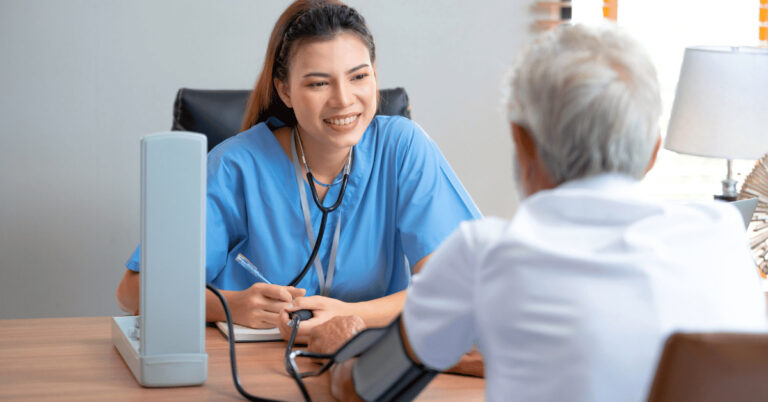 Nestled in the heart of Leicester, there lies a health sanctuary known for its integrated approach to well-being. Prioritising aspects of health such as hormonal balance and rejuvenating sleep, this establishment harnesses expertly curated services that emphasise prevention, early detection, and holistic care.
Supported by state-of-the-art technology and robust partnerships, it seeks to be a beacon for those seeking optimal health.
Enter Healand Clinic. Today, we'll delve into how this clinic stands out, offering health screenings that transcend traditional healthcare boundaries, positioning itself as a nexus where comprehensive care and unmatched expertise converge.
Proactive Health Management
At Healand Clinic, the belief is that 'prevention is better than cure.' It's a philosophy that champions proactive management of one's health. By understanding the intricate link between mind and body, it's evident that taking early measures to monitor and assess our health can be pivotal. Through Comprehensive Health Screenings, including detailed blood tests, sleep assessments, female health checks, and many more, Healand Clinic offers a proactive approach to health management, ensuring individuals are well-informed and equipped to take preventative measures.
The amazing medical team at Healand Clinic genuinely believes in the importance of understanding one's health. That's why, for a limited time, their comprehensive health screening, typically valued at £399, is available for £99. This includes a blood pressure and diabetes assessment, comprehensive blood tests that analyse key markers, and a consultation to review your results with their experienced clinicians.

It's not just about numbers; it's about understanding heart risks, vitamin levels, and much more. Their dedicated clinicians are here to guide you through your results. For those seeking an even deeper insight, additional personalised tests are offered, such as a thyroid function test and a full body scan.
"By closely understanding our body and its current health metrics, we can strategically implement measures to avoid potential health challenges in the future." – Dr Omar Babar, Medical Director of Healand Clinic.
Sleep Better with Healand's Advanced Sleep Assessments
At Healand, they recognise just how big a role sleep plays in our well-being. That's why they offer targeted assessments for Obstructive Sleep Apnoea (OSA) and Snoring, conditions affecting millions in the UK. OSA can lead to impaired driving, hypertension, and increased heart attack and stroke risks. They've also begun a collaboration with industry leader ResMed for OSA and Snoring evaluations.
The process is quite straightforward. You start with Healand's expert clinicians for an initial assessment. If needed, you'll transition seamlessly to ResMed's specialised team for a thorough evaluation and tailored treatment solutions. ResMed will manage post-diagnosis queries and ensure Healand stays updated on your treatment progress. Together, they aim to provide you with restful, rejuvenating sleep.
Thyroid Function Testing
The thyroid might be a diminutive gland, but its impact on our health is massive. A properly functioning thyroid ensures the optimal functioning of various metabolic processes. Recognising its pivotal role, Healand Clinic delivers a spectrum of thyroid function tests that delve right into the intricate details of this crucial gland. Ranging from the foundational to the most exhaustive, these tests are curated to identify and tackle potential thyroid anomalies at their nascent stages. With Healand's holistic approach and the sheer number of tests available, patients are assured of precise evaluations and targeted interventions, safeguarding their thyroid health.
Women's Health
Healand Clinic's bespoke Full Female Health Check recognises that women have health needs distinct from their male counterparts. This assessment incorporates an exhaustive Hormone Panel and has been meticulously crafted, factoring in considerations like menstrual cycles, birth control, and even specific supplements. This attention to detail ensures that women receive a holistic view of their health, particularly zeroing in on potential hormonal disparities.
Details of the Full Female Health Check:
Timings and Requirements:
The test should be conducted between 07:00 – 11:00 am
If you boast a regular cycle of approximately 28 days, ensure the blood sample is drawn between days 19-21
Those with irregular or non-patterned cycles should provide samples between days 3-5 of menstruation.
If it's been over a year since your last period, you can submit your blood sample at any time, provided the exact date of your last menstruation is conveyed to Healand Clinic.
If you're on Vitamin B7 supplements, often called Biotin or Vitamin H, halt its intake at least 48 hours before the sample collection. This is crucial as it can distort thyroid panel outcomes.
Always keep Healand informed about any medication or birth control methods you might be on.
Through this extensive evaluation, Healand ensures its commitment to championing the intricacies of women's health, providing insights and care that truly resonate.
Precision in Male Hormonal Balance with TRT Tests
Looking at the men now, Healand knows the profound influence of testosterone levels on men's health and vitality, offering a diversified suite of Testosterone Replacement Therapy (TRT) tests. Whether seeking a full diagnostic assessment or a secondary confirmatory test, the clinic's offerings ensure meticulous analysis, leading to precise treatment recommendations.
TRT Test Packages at a Glance
TRT Comprehensive Plus with Zinc: This is a full-fledged diagnostic test, encompassing an extensive range of metrics, from liver function, lipid profile, and thyroid-related hormones to specific indicators like Prostate Specific Antigen and Zinc.
TRT Comprehensive Plus without Zinc: Another comprehensive diagnostic option, this test mirrors the aforementioned one without the Zinc assessment.
TRT Comprehensive: This is a diagnostic test that covers essential metrics, including liver function, thyroid hormones, and the critical Prostate Specific Antigen.
TRT Analysis: Although not a primary diagnostic test, this serves as a robust confirmatory test. It evaluates important markers such as the Follicle Stimulating Hormone, Luteinising Hormone, and Prostate Specific Antigen.
TRT Regimen: Like the TRT Analysis, this test is non-diagnostic and is useful for secondary confirmatory testing, focusing on pivotal hormonal markers.
With these tailored test packages, Healand Clinic underscores its commitment to delivering nuanced and individualised care, empowering men with the clarity and direction needed to maintain their hormonal health optimally.
Offering Extra Care Beyond Health Screenings
At Healand Clinic, there's a deep understanding between a sound body and a resilient mind. Going beyond their core medical offerings, they offer two health and wellness options designed to amplify a patient's wellness journey:
The Morsia App Collaboration.
Acknowledging the key role resistance training plays in physical and mental health, Healand has joined forces with The Morsia App, lauded as a top-tier fitness application. Whether you're a novice exploring resistance training or an adept lifter, The Morsia App, under the guidance of Matt Morsia of MattDoesFitness, offers tailored plans to suit every individual.
Matt shares, "Our app is not just about customised training and meal plans. It's about evolving and progressing with knowledge." Exclusively for our patients, we're thrilled to present a special discount on this transformative app. If resistance training is on your radar, Healand is here to bridge you to this exceptional offer.
Body Composition with Evolt 360+
Furthering their commitment to innovative health solutions, they've introduced a partnership with Evolt 360+. This state-of-the-art Bioelectrical Impedance Analysis (BIA) body composition scanner offers precision on par with DEXA standards. It generates an extensive body composition report in a swift minute, including a heart health age comparison with your actual age. Complementing this is the Evolt Active app, a cloud-based platform that lets you access your scan results anytime, anywhere. Healand takes pride in being the only clinic nationwide to offer this unique scanner and app duo.
Incorporating these remarkable health and wellness options into your health routine with Healand ensures a comprehensive and insightful wellness journey.
Hearing from Our Community at Healand Clinic
At Healand Clinic, they're more than just healthcare providers. Their mission is to bring clarity, understanding, and simplicity to every patient's experience.
Jenna, a 36-year-old accountant in Leicester, shared, "Healand didn't just offer healthcare for me. They provided clarity at every turn. I truly felt we were partners in my health journey."
Marcus, a 31-year-old Dentist, added, "I went for a TRT analysis. From the moment I received my pre-test guidelines to the day I understood my results, the amazing team at Healand was there, making every detail clear and simple. I've never felt this confident about my health."
And finally, Priya, a 27-year-old digital content creator, remarked, "With Healand, managing my health has become effortless. Before I went, I had issues with sleep and felt it in my everyday life. But through them, I found the help I needed. Their blend of expertise and genuine care has also meant I'm always informed and in charge after going back for my follow-ups."
This and countless other testimonies validate their commitment to guide every patient through their health journey confidently. By providing detailed and thorough consultations, Healand ensures that patients are well-informed and can navigate their healthcare journey confidently.
Ready to prioritise your health with Healand Clinic?
Take control of your well-being and dive into a comprehensive health journey tailored just for you. Healand's fantastic medical team are eager to guide you every step of the way. From in-depth screenings to personalised consultations, you'll be covered. Are you eager to start? Book your free consultation today and join the many who've transformed their health with Healand!
Choosing Comprehensive Care
In a world brimming with health offerings, Healand Clinic stands out with its all-encompassing and tailored services. Embracing comprehensive health services like those offered by Healand can be a game-changer for one's health journey. So, prioritise your health, embrace comprehensive care, and let the experts guide you to better outcomes.