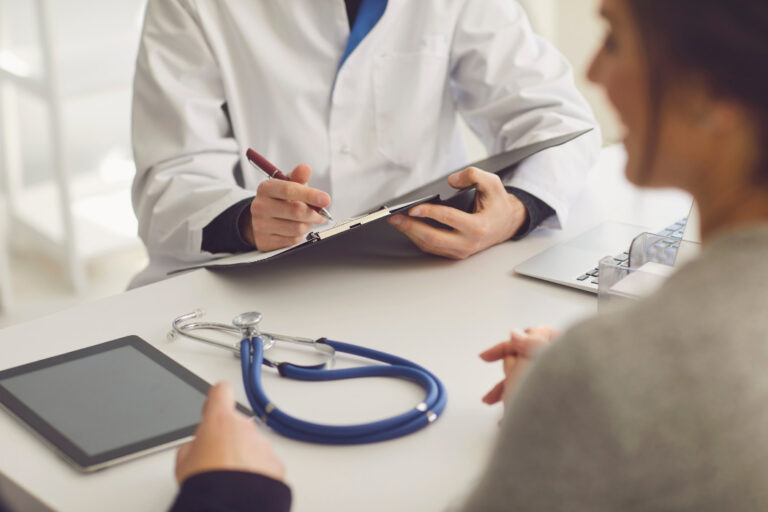 We've recently looked at the best private GPs in London, but today we're going to look into the best private GP clinics in London.
Are you based in London and looking for a great private doctor's clinic to visit? Well, we're going to go through the top clinics to help you get the best private medical care possible! Our focus will be on their location, how much they cost, what they offer, their expertise and what information they make freely available on their websites.
#1- Harley Street Health Centre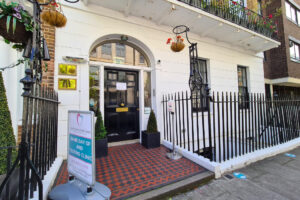 Harley Street Health Centre comes into this list in a solid first place. They have two private GP clinics based in the Harley Street area and close to Monument Underground station, making their location convenient and accessible.
While they are based around the renowned Harley Street, their prices fall in the mid-range of London private GP clinics, starting around the £85 mark.
Their sheer number of services sets them apart from the rest, with everything from visa medicals to COVID-19 testing and a full sexual health clinic.
While quantity doesn't always mean quality, Harley Street Health Centre also has experienced dermatology, gynaecology and therapy specialists!
What we love is their up-to-date and informative blog, which gives you incredibly useful information!
#2 – Bodyvie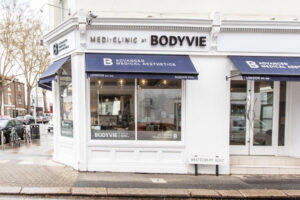 Based in Richmond, just a five-minute walk from the station, Bodyvie is conveniently accessible. However, their number of services gives them second place in our list of best private GP clinics in London.
Bodyvie offers private GP services, along with aesthetic services, a number of ultrasounds, body treatments and much more. They also have specialists in dermatology, aesthetics and skin care.
Bodyvie's prices are very reasonable, starting from £25, putting them in the mid-range of London private GP clinics.
They also have a fantastic blog, which will keep you up-to-date on healthcare and aesthetic treatments!
#3 – Walk-In Clinic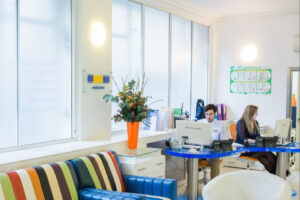 With two central London private GP clinics, Walk-In Clinic remains a strong contender, but what we like the most about this reputable clinic is its full sexual health clinic. The sexual health clinic offers extensive services, including blood tests, specific STI tests and HIV testing.
Walk-In Clinic also offers visa medical and work medicals, along with vaccine packages for a number of vaccines, COVID-19 testing and Wellman and Wellwoman checks (really worth your while if you want to get ahead of any underlying conditions).
Prices also range from £85 onwards for a telephone or video consultation. They offer specialist referrals and have specialist gynaecology services and corporate services. They also have an informative blog to keep you educated about your health.
#4 – London Doctors Clinic
With 18 clinics based around London, London Doctors Clinic certainly offers convenient private GP clinic services.
Along with their private GP clinics, the London Doctors Clinics offers health screens, blood tests, STI tests, prescriptions and more. They also have specialists covering cardiology, dermatology and physiotherapy.
Their prices start at £79, making them one of the cheaper options; however, their site specifies this for a 15-minute appointment, which is something to bear in mind when booking.
Their blog will inform you about various health topics, including suncare, this English summer.
#5 – HCA Healthcare
HCA Healthcare has a number of clinics across London, making it highly convenient. They also offer same-day private GP appointments, which makes them stand out from the average London private GP clinic.
HCA Healthcare's website isn't as informative as the above clinics; however, they remain reputable. While we can't find what other services they offer or which specialists they have, their website does make it clear that they offer GP appointments for £75, although it is unclear how long these appointments are.
In conclusion
You should always ensure you only choose the best for your medical services, which is why we highly recommend one of these best private GP clinics in London.
While convenience is important, professionalism and expertise is something that is far more valuable when it comes to medical and healthcare services.
Choosing a company that offers vast information on their sites, convenience, and professionalism is always advisable.