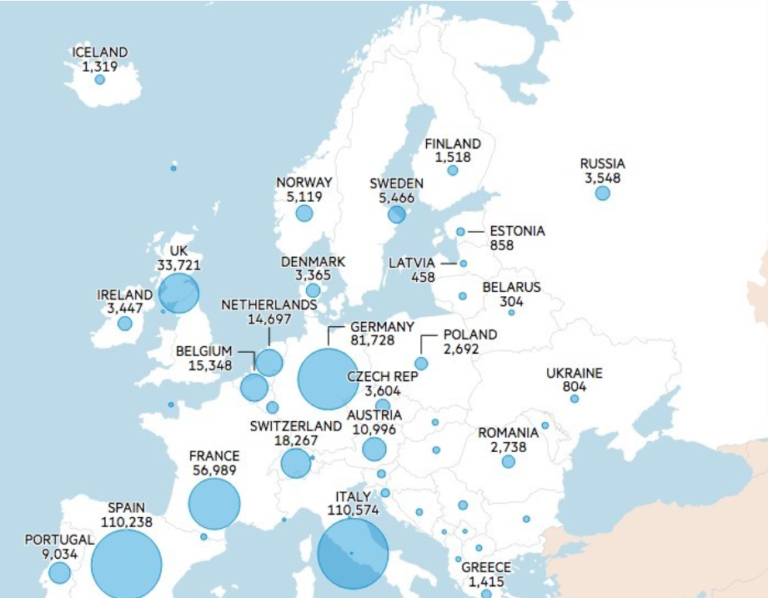 The principal news story dominating our screens and newspapers is not likely to make a departure anytime soon. With this in mind, it's important to equip yourself with the facts, to help keep yourself and others safe and well.
Note: If you live in London private COVID-19 testing is now available at harleyhealthcentre.com/blood-tests/coronavirus-testing.
In this piece, we've put together some useful information including stats, facts and the myths to watch out for, so you can read about it, all in one place here at Healthier Matters.
What is a coronavirus? 
The WHO (World Health Organization) class coronaviruses as a family of viruses that encompass the common cold, in addition to more serious diseases such as severe acute respiratory syndrome (SARS). Research has concluded that the viruses were originally transmitted from animals to people and the latest strain of coronavirus, Covid-19, is said to have come from bats.  
The coronavirus key
"CO" = "corona"

 

"VI = "virus" 

 

"D" = "disease"

 

"19" 

= the year is was first identified 

 
A breakdown of the symptoms
Most common symptoms 
Some patients might also present with:  
Aches and pains 

 

Runny nose

 

Sore throat 

 

Shortness of breath 

 

Diarrhoea 

 
The facts – what do we know?
In the UK, as of the 2nd April 2020, 163,194 people have been tested, of which 33,718 were confirmed positive. This information doesn't include deaths that have occurred outside of hospital, so the actual figures are likely to be much higher. The government are set to ramp up testing, as advised by the WHO and following the example of many other countries around the world. 
So far, Italy have been most affected by coronavirus deaths, with the current death toll standing at 13,155, though Spain is seeing a soar in fatalities that could soon overtake those in Italy.  
What can you do to protect yourself and others?
Virologists and other medical experts are working tirelessly to discover a vaccine for coronavirus, though it is unlikely that this will happen imminently or that it will be widely available soon. Following the guidelines and advice issued and ordered by the government is the best way to protect yourself and others from catching the disease. Here's what they are asking of the public:  
Stay at home

 as much as possible

: t

he virus itself doesn't move – people do – so 

staying home as much as possible and leaving your home only when you really need to, will stop the virus from moving around. As we now know, many people can carry the virus and only present with mild symptoms. You may not even know you are carrying it and therefore carry a risk of passing it on. 

 

Practice social distancing

:

 for essential going out, the government have ordered we abide by social distancing rules, which ask that we stay 2 metres away from one another. 

 

Wash your hands

:

 you may be tired of hearing this one, but

 it is so incredibly important, particularly the time you spend washing them. The NHS recommend that we wash our hands for

 at least

 20 seconds, as this is the time it takes to effectively remove 

bacteria. Actress 

Kristin Bell

 shared a 

photograph of hands that were washed for varying amounts of time, showing 

that a plethora of bacteria had been left behind a

fter just a 6 second hand wash, compared to after a 20 or 30 second wash. 

 

Self-

isolate: 

if you have a persistent 

dry 

cough or fever, you should self-

isolate for 7 days. 

If you have been around someone who has presented with these symptoms, you sho

uld be self-

isolating for 14 days, to compensate for the 5-7 day incubation period. 

 

Myth Buster – know the facts about coronavirus 
With a myriad of information out there, it can be hard to know which sources to take as gospel. We've taken our myth busting information from the WHO site, who are the main source of legitimate information where coronavirus is concerned. Here are a few myths you should be aware of:  
Exposing yourself to warmer temperatures doesn't prevent you getting coronavirus
Coronavirus does not discriminate when it comes to temperature. We've seen Italy and Spain suffer greatly at the hands of the virus and both countries have some of the highest temperatures in Europe.  
Spraying alcohol or chlorine all over your body will not kill coronavirus
Spraying alcohol or chlorine over the body is not a way to kill viruses that have already made themselves at home in the body and can actually be harmful.  
Just because you're young, doesn't mean you will be spared by a serious form of coronavirus
This is a particularly important one as there are still many reports of young people expressing that they're unconcerned of the dangers of coronavirus when it comes to their own health. It's true, that in its worst form, the virus affects those who are over 70 and who have underlying health conditions. However, there have been cases where young people catch the virus and suffer serious symptoms and unfortunately, pass away.  
Keep hopeful, positive and safe
It's extremely difficult to stay positive and look after your wellbeing at an unprecedented time such as this, but by following government guidelines and advice from the WHO, we can all do our bit to keep ourselves and others safe. Kindness and generosity will go a long way during the weeks to come – why not ask a neighbour if they need a hand with shopping or help out meal-prepping at home for your local Salvation Army? There is no better time to do something for others J.