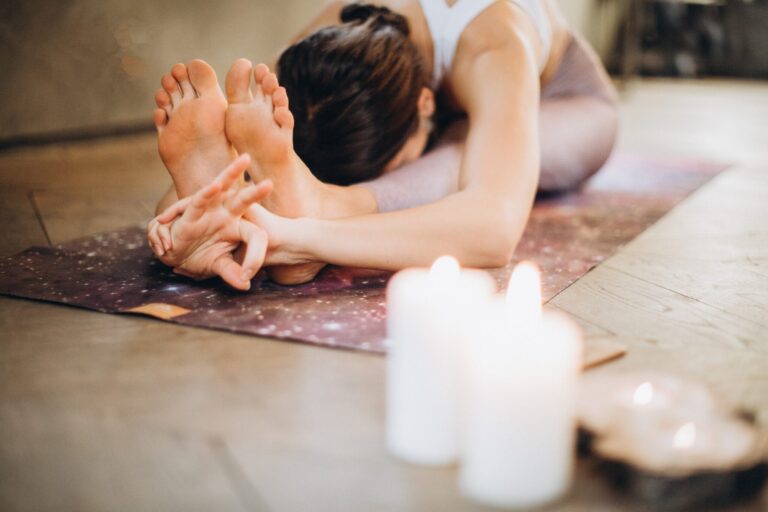 Yoga provides physical and mental health benefits for people of all ages. If you are suffering from an illness, recovering post-surgery or dealing with a chronic condition, yoga can become vital in your treatment and healing process.
What is candlelight yoga?
Furthermore, after spending the majority of your day in constant motion and moving from one rush to another, wouldn't it be nice to slow things down, even if it's just for a little while. Candlelight yoga combines regular practice with gentle music and soft haze flickering candles to feed your body, mind, soul and prepare your body for sleep.
Regardless of your level of expertise, practicing regularly can help you feel better from head to toe. A yoga therapist/instructor – such as Yoga by Candlelight – works with individuals to formulate physical and spiritual therapies to aid recovery or maintain body and mind. 
Benefits of regular practice
Below we breakdown the fundamental benefits of Yoga in general before we delving into some more niche practices:
Improves an individual's strength, balance and flexibility. Slow movements in tandem with breathing exercises increases blood flow and keeps muscles warm to build strength. 

Yoga can relieve back pain. Basic yogic stretching eases pain, increases mobility and is recommended as first-choice treatment for chronic low back pain by the American College of Physicians.

PubMed analysed over 11 different studies and found that gentle exercises can ease discomfort from tender and swollen joints for people with arthritis.

Yoga addresses and reduces high blood pressure and excess weight, which reduces levels of stress and body-wide inflammation. 

Bedtime yoga can help your body get into the right mind-set to fall asleep and stay asleep. 

It gives the individual a mental boost in alertness and enthusiasm. Regular and routine practice allows negative feelings to float away by providing stability.

Yogic classes, in particular, can combat loneliness and anti-social behaviour by providing an environment for group healing and support. 
Benefits of candlelight yoga
Candlelight yoga not only holds all the benefits of regular yoga practice listed above, the combination of music and candlelight provides so much more on top:
Better sleep: Candlelight yoga combines relaxing stretches and breathing exercises to wind down the body and mind after a long day. Electric lights – particularly blue lights – overly stimulate the brain and keep us awake long into the night. By reducing your exposure to artificial light your brain has an easier time falling asleep.

Standard yogic practices can often shun spiritual benefits in favour of physical ones. Candlelight yoga focuses primarily on meditative breathing and gentle exercises. It isn't physically exerting but leaves one feeling fulfilled and free of brain fog. 

Continued and regular candlelight practice keeps you alert and focused on your daily activities. Sleeping better and having already released all the stress and weight on your mind, can leave you to make more clear-headed decisions out of the class.

Personification: a candle burning, wax melting, the flame flickering through shapes and the wick shortening are parallels for changing and transforming, Yogis can identify with the transformation thus helping them to better understand and focus on their change.

Candle Gazing: gazing at an object can allow an individual to be absorbed and taken outside of the classroom. Through the endless and exquisite beauty of the flame, students can lose themselves in eternity and concentration, achieving a sense of tranquillity and stillness. 
Living in a busy and noisy community has led to wonderful initiatives such as candlelight yoga. If you're looking to focus the mind and body, 'Yoga by Candlelight' offers such classes online and in-studio to help any individual relax and finally find that unobtainable deep slumber. The candlelight method is a new fresh take on routine yoga practice and is an enveloping environment for newbies and veterans.